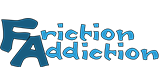 Friction Addiction 2 x 1.25cm TAPE
All of our tape comes in tins.
Rated

4

/

5

based on

2

reviews.
Description
The Friction Addiction 2 x 1.25cm Tape is super sticky whilst still being easy to tear apart. Just the right combination of strength and adhesiveness which has proven to be perfect for climbing. From supporting stressed, injured and recovering fingers to covering flappers to allow you a couple more climbs to full hand tape gloves, this tape has you covered!
All of our tape comes in tins! Why? Over the years, we have lost way too many rolls of tape to the elements. We were tired of losing whole rolls of tape due to them drying out and getting too dirty for proper use, so we needed to come up with a way to protect our tape when it is not in use in the bottom of our climbing bags. This is where our tins come into play. The last bit of tape you use will be as sticky and clean as the first bit you pulled from the roll.
Reviews
the only tape I use

By:

Jana

on 24 September 2018

<p>Excellent quality. The only tape I buy. Would highly recommend. The tape is easy to tear and firm i.e. minimal stretch. Doesn't peel off during a full day climbing adventure. Can withstand getting a little bit wet so you can wash your hands and it is still firmly stuck. Conveniently pre cut at a perfect width for taping fingers. The tin is handy, it keeps the tape clean and prevents it getting crushed by all my other climbing things. Only criticism is that I wish I could buy it without the tin, I have so many empty tins now.</p>




(5)
Durable and sticky

By:

Roxy Perry

on 29 November 2016

Excellent tape. I have struggled to find tape that lasts during training sessions, outdoor adventures and general climbing due to it slipping or peeling from sweat and chalk... this tape nails it! I find it doesn't peel or tear while I climb and holds it's tightness when supporting my finger injuries. It's also extremely affordable which appeals to my climbing life-style and my continuous need for tape all the time. THE TIN IS PERFECT. It keeps the tape clean AND I can drink coffee from it when I forget to bring a cup to the crag. ;) The only thing I can fault with this tape is that is can be a struggle to rip sometimes so occasionally my teeth or scissors need to come in to play.




(4)