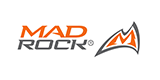 Mad Rock MAD PAD Crash Pad
Plush five inch thick foam.
Rated

4

/

5

based on

1

reviews.
Description
The Mad Pad is a plush five inch thick combination of open and closed cell foam for firm but comfortable drops. Features a 1-3-1 construction. 1" closed - 3" open - 1" closed. This makes it the high ball pad of chioce. Backpack straps make a breeze to tote in. Hip belt and chest strap makes it a comfortable carry. EZ attachment straps connect securely to other Mad Pads for the ultimate landing zone. Ready to take a load off? Lean back and relax - our aircraft aluminum buckle closure and specially designed straps allow you to convert the Mad Pad right into your own lounge chair. Folded 4' x 3' x 5".
Specifications
Weight 6.25 kg
Closed Size 94cmx63cmx28cm
Open Size 94cmx127cmx13cm
Reviews
Mad Rock Mad Pad Review

By:

Michael Edwards

on 22 August 2018

Hi guy's. A bit late with this review, I had a bad landing when bouldering way back in April and broke my leg and ankle and have just returned to work and sorting through a back log of emails. Although the injury mentioned above occurred when landing on pads it was not caused by the pads and especially not the Mad Rock pad. On to the review. I have a number of pads ranging from the BD Mondo down to some quite small pads. The Mad pad is great. It's a mid sized pad and quite thick and firm. Great to use as a single pad, due to the thickness I'm quite happy to take fairly high falls onto it. It is also very good when used with other pads to level out uneven landings or to protect high boulder problems. Tough and durable, its seen plenty of action in the Grampians this winter (not by me but the others I climb with) and shows no sign of wear nor decompression of the foam. Good value for the price.




(4)